WordPress is one of the top rated and most used content management systems (CMS) out there. And, why not? It gives your business the freedom of choice. It is open source software and has a great community surrounding it. WordPress ecosystem is also one of the reasons behind its popularity and usefulness. According to Neil Patel, WordPress is popular because it is flexible and customizable to the core.
To take advantage of what it has to offer, you need to install plugins after you launch your WordPress website. In this article, we will go through the top 7 plugins to install after launching a WordPress website.
The plugins that we are going to list today will help you improve almost every aspect of your website. Also, by going through the list, you will surely know which plugins need your immediate attention from the available pool of more than 54,000 plugins in the official WordPress plugin repository.
So, without any delay, let's get started!
#Plugins To Install After Launching A WordPress Website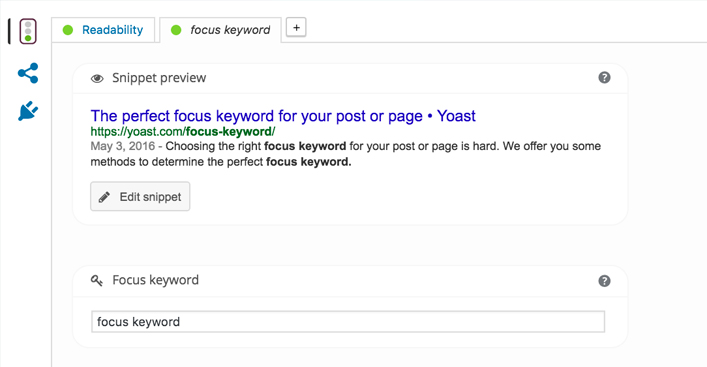 The first plugin to install after launching a WordPress website is Yoast SEO Plugin. Even though WordPress is SEO compatible, it can still be further optimized by Yoast SEO. You can find a lot of SEO plugins out there, but Yoast SEO beats the competition by a mile. We also recommend it because it is easy to use and there are plenty of tutorials available on How to use and install Yoast SEO.
Yoast SEO plugin comes with a ton of features. It gives you the ability to optimize your WordPress SEO sitewide. It can be used to optimize the on-page SEO for any page or post completely. To help you get a clear idea, it also comes with Google snippet preview.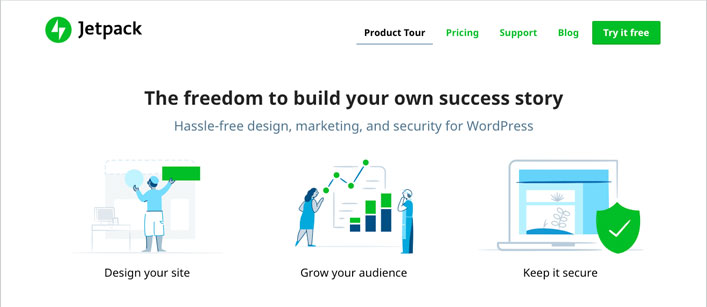 JetPack is a multi-purpose plugin which offers a collection of tools to start with. For example, by installing JetPack, you will get access to marketing, security, and design tools. It also helps enhance your WordPress website speed and performance and helps you improve visitors engagement.
JetPack is a great plugin for what it offers. It starts with simple social media features which include scheduling posts in advance. You can also include advertising programs using JetPack, and much more! Last, but not the least, it also comes with a mobile theme option, which let you transform your website into a responsive and lightweight theme, ideal for different screen sizes.
Even though JetPack is a great plugin, you should be wary of the fact that it can conflict with other similar plugins. To make sure it doesn't, always disable the functionality that you don't need within JetPack before installing a new plugin for similar functionality.

Optimizing your WordPress website is necessary if you want to succeed in the online world. By making your website faster, you are providing users great user experience and are also hinting Google on why you deserve good rankings.
W3 Total Cache is a performance plugin that lets you optimize different aspects of your website including render times, reduced load time, website size and so on. It can be used with any WordPress themes out there. Also, it will help you use cache disk, which will further improve the read time a server takes to fulfill a user request. Overall, W3 Total Cache is a must-have plugin for your WordPress website as it features a complete package to optimize your website in and out.

Comment spam. No one likes it. And, one thing is for sure that once you get your website online, you will start getting these comment spam almost instantly. These spam can impact not only your site's user experience, but can also hamper the site performance. This is where Akismet comes in.
Akismet is a free to use anti-spam plugin that protects your WordPress website from both human spammers as well as bots. It also keeps a status history so that you can check the source of the spam. With this simple plugin, you will be sure that no spams go through. Also, sometimes, it is necessary for a business to shut down comments completely. However, before you make that decision, it is always a good idea to try out Akismet.

Even though JetPack tracks website analytics, it is always a good idea to use a dedicated plugin to track your website. This plugin by MonsterInsight can help you do just that. It is a Google Analytics (GA) plugin and lets you connect your GA account. By installing this plugin, you can track visitors right from your dashboard. These insights should also help you improve your site performance in terms of earning and other design elements.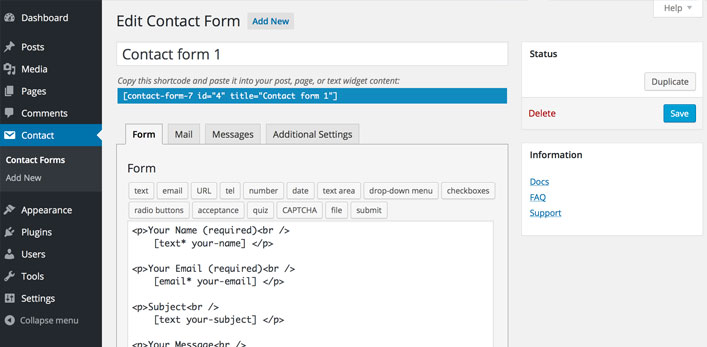 Creating a form is an easy task, but it becomes easier if you use Contact Form 7. This plugin enables you to create a simple contact form in a matter of minutes. And, the good thing is that you don't have to write a single line of code. The plugin can also be integrated anywhere on your website including pages and posts. You can further customize your form by adding additional features. To know more, check out this dedicated post on Contact form 7 WordPress plugin

Our last plugin for the list is WP Smush Pro. As you might have guessed it, it is a paid plugin. However, it is worth every single penny you spend on it. WP Smush Pro lets you manage website images and help you optimize them for better loading time and SEO value.
Images are necessary to make your website more appealing and it helps increase audience engagement. In that case, integrating images is not an option anymore. You have to do it. WP Smush Pro helps you bulk resize and optimize images. Also, it automatically optimizes an image when it's first uploaded.
---
#Conclusion
All the above plugins will improve your website in a significant way. These plugins are a must-have on all WordPress website. However, the good news is that there are plenty of alternatives available and it all depends on your requirement on what you plan to choose.
So, which plugins are you going to choose? Comment below and let us know!