The way you get support from TrendyTheme is one-to-one step to solve your complication when desiring to lead the webspace.
Meet the New Dashboard Of TrendyTheme.
This is the personal dashboard of you where you can access all of your themes of Trendy Theme as well as you will get dedicated one to one support from our experienced team. With your email, you can enter in this panel using your password. In a word, it's your personal account with Trendy Theme to access everything that you need from us.
You will get this secure account when purchasing our themes using two methods.
When you purchase themes using Trendy Theme website, you will get an account with us. That means after successful purchasing of your first theme, your account will be created at once.
On the other hand, if you buy our themes from Envato, you will get the Dashboard on TrendyTheme after successful purchase on Envato. How? From our website, you will get an option of " Login with your Envato Acc. / TF Support" and from the automated API on our website, you will be redirected to Envato and when you are logged-in on Envato, our website will create your account on Trendy Theme automatically with the verification of your purchase of our theme on the third party. The account will be based on your account on Envato.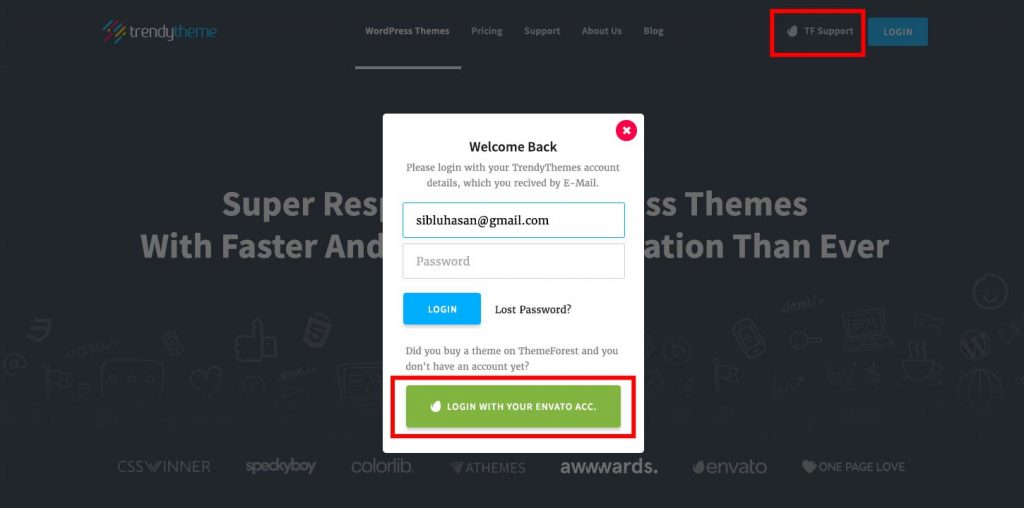 When you get the themes and related support in one place, allows you to get things done quickly. In the dashboard, you will see all of your purchase, license code, installation information as well as support validation. Even you can extend your support time from this dashboard. Need to mention, if you buy the themes using Envato, you need to extend support from them. So, it is no matter where from you purchasing our themes, you will get all support from one place with our dedicated experts. 
The dashboard is divided into two separate sections. From the first section, you will find the list of the themes you have purchased from us and the license code as well. And another section is all about your purchase history. For example, payment procedures, invoice, subscription status, and renewal date.
Say "Hello" to TrendyTheme Support Desk
Support Forums
Support Forum is another amazing help center for you. You can check previously asked questions from here. Similarly, if needs or any problems which are not relevant from the previous solution, you can ask questions. Our experts will solve your issues within several business hours. 
It is easy to create a support ticket to get the solution within a few business hours. As we already know which theme you have purchased from us and where you have installed it, from previous and relevant experience it is easy to provide the solution. You can check support forum from here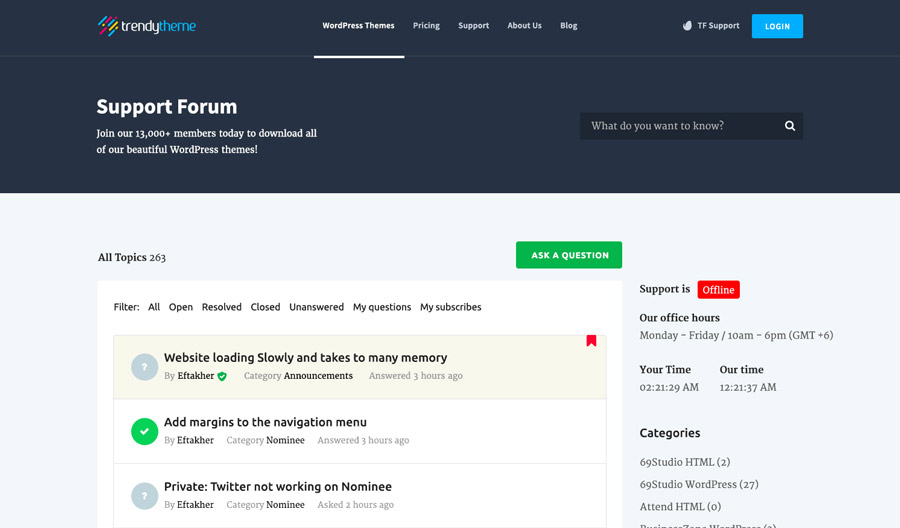 FAQs Sections
The FAQs sections describe most of the essential questions of your mind. From relevant questions of our previous customers which are asked frequently has been added here to make the process easier and automated for you. You can check FAQs from here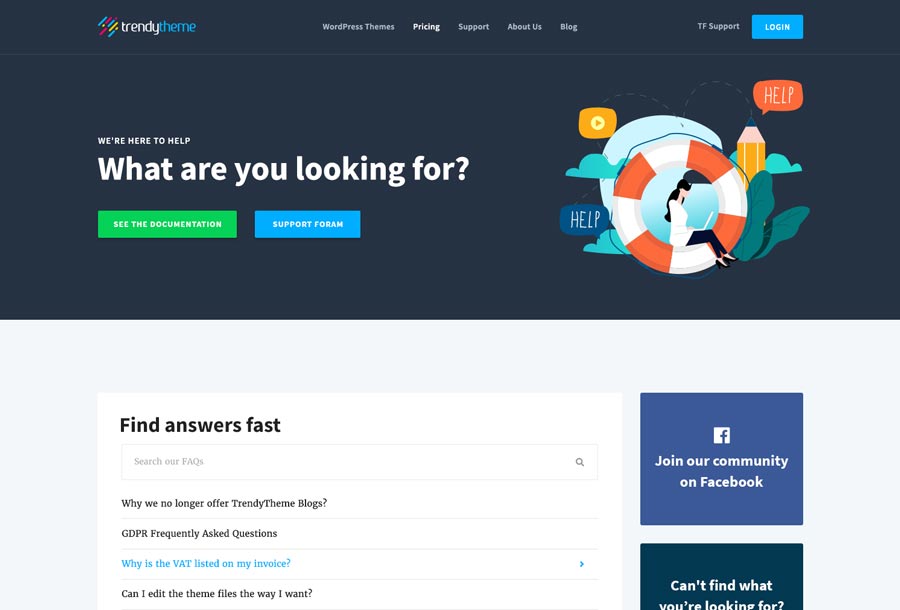 Online Documentation
From the documentation of TrendyTheme, you can access all the how-to documentation related to your themes which is well-organized tutorial from installation to activation. You can check all the documentation form here
FAQs about Dashboard and Support Page
How can I login to the Dashboard?
When you purchase any themes from Trendy Theme website, you will get a confirmation email from us. You will get a link with login details. Using that information, you can easily log in to the Dashboard of the TrendyTheme. Similarly, if you use Envato that sale our themes, you can also login to our dashboard easily from the API options of "Login With Envato".
Will I be able to access my old private support tickets?
Yes! If you use the same email address for the support tickets, you will get access to old private support tickets. (Note if you are not aware of our Support Policy, you can read it from here)
Can I remove the activated license key from the Dashboard?
Yes! You can. From the dashboard, you can see the URL where you have used the license key. Now, you have to remove/disable the license key from the already used site. Then delete the WordPress installation. If you delete WP files without removing license key, it may/will occur problem when using again to that site or another site. Mistakenly, if you fail to access your key or forget to disable the key when deleting the WP files, you should inform us for supporting you. Our team will help you to reactivate the license key.
Can I login to the Dashboard using my ThemeForest account?
Yes! It is possible to access TrendyTheme dashboard with ThemeForest account details. Although we and ThemeForest are two separate platforms, we have built an API on our website where you will find "Login with your Envato Acc. / TF Support" then without providing login information, you can access your dashboard. Our website will collect the information from ThemeForest to provide you instant access to TrendyTheme. 
Can I renew a license from the Dashboard?
Yes! You can easily renew your license period from the dashboard of TrendyTheme for extended support. Happy to say, you will get special prices (Discounted Price) for renewing with us as an existing customer of TrendyTheme.
Again, if you buy themes from Envato, you need to renew the license from them and they don't offer discounted prices for renewing. 
After all, if you have any other issues or questions, you can contact us here. We will get back soon with your desired solution.