TrendyMag
Magazine and Blog WordPress Theme
---
Thank you for purchasing TrendyMag Magazine and Blog Wordpress Theme! Before you get started, please be sure to always check out this documentation. We outline all kinds of good information, and provide you with all the details you need to use TrendyMag Wordpress.
TrendyMag can only be used with Wordpress and we assume that you already have Wordpress installed and ready to go. For basic qustaion about wordpress please try to search in google , or read wordpress doucmation
If you are unable to find your answer here in our documentation, we encourage you to contact us through themeforest item support page with your site CPanel (or FTP) and wordpress admin details. We're very happy to help you and you will get reply from us more faster than you expected.
Thank you, we hope you to enjoy using TrendyMag Wordpress Theme!
TrendyMag is a WordPress theme exclusively built for news, newspaper, magazine, publishing or review websites. It is fully responsive, retina ready and easy to customize.
TrendyMag empowers you to build sites under Corporate News, Sports News, Tech News, Food Blogging, Game News and review, Travel Blogging and much more categories. TrendyMag also supports videos from YouTube and Vimeo. It uses the best clean SEO practices, and on top of that, it's fast, simple, and easy to use. In addition, TrendyMag supports responsive Google Ads and AdSense.
One Click Demo installation(Import full demo in a single click)
6 Full News Website Demo
Boxed and Full width layout.
Powered by Visual Composer – the best Drag and Drop page builder
Revolution slider Included
Extremely easy to setup and configure
Inline Google AdSense or other ads after a predefined number of paragraphs
Unlimeted color option. (Choose your favourite color)
Infinite Layouts (With our shortcodes and visual composer you can build infinite page layout.)
WPML translation ready.
Mailchimp supported using MailChimp for WordPress Plugin
Child theme ready
Left and right sidebar option
10 Unique Blog Layouts
3 Unique Footer Styles
Fully responsive with all devices.
Retina-ready graphics.
Cross browser support.
Attractive CSS animation.
Google Fonts used: Choose your fonts from over 300+ Google Webfonts
Extensive documentation (Text and Video)
Excellent customer support – We care about your site as much as you and will help in anyway possible.
Check our Video Channel for easy installation and setup process.

Downloading theme from Themeforest
If you already downloaded the theme after you first purchased it, you may have a file called something like "themeforest-19655492-trendymag-responsive-news-wordpress-theme.zip". Then extract the zip file, and inside it browse to trendymag.zip. The trendymag.zip file is the WordPress installable file.
Theme Installing and Activating
There is three ways to install theme :
A. Adding New Themes using the Administration Panels:
Log in to the WordPress Administration Panels.
Select the Appearance panel, then Themes.
Select Add New.
If you've downloaded the installable WordPress file, then you do not need to unzip the file. If you've downloaded the Full Theme Package, you have to unzip the master "themeforest-19655492-trendymag-responsive-news-wordpress-theme.zip" file, you will see trendymag.zip file, this is the one you select to install.
Click 'Choose File' and select the trendymag.zip file.
Once the file has uploaded then click activate it, or go to WordPress Dashboard > Appearance > Themes and click the Activate button.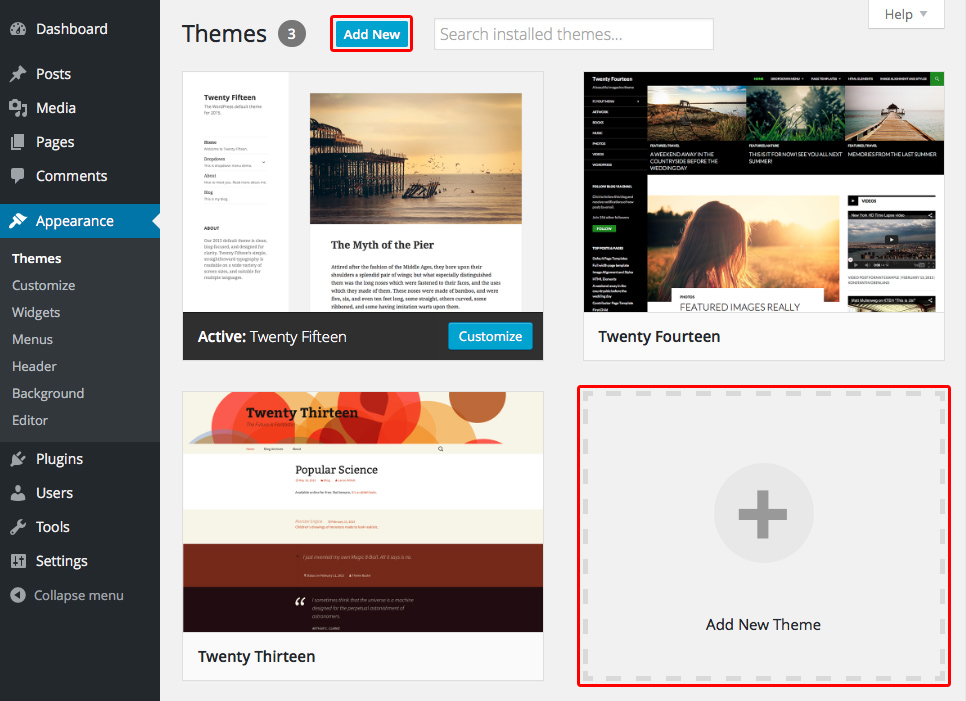 B. Adding New Themes by using cPanel:
If your host offers the cPanel control panel, and the Theme files are in a .zip archive follow these instructions. Note: This assumes the Theme you download is a compressed (.zip) file containing a folder under which all the Theme files reside.
Download the Theme .zip file to your local machine.
In cPanel File Manager, navigate to your Themes folder. If your WordPress is installed in the document root folder of your web server you would navigate to "public_html/wp-content/themes" and if you have WordPress installed in a sub-folder called WordPress, you would navigate to "public_html/wordpress/wp-content/themes".
Once you've navigated to the Themes folder in cPanel File Manager, click on Upload file(s) and upload that .zip file you saved in Step 1.
Once the .zip file is uploaded, click on the name of that file in cPanel, then in the panel to the right, click on "Extract File Contents", and that .zip file will be uncompressed.
Follow the Selecting and Active Theme process from bellow.
C. Adding New Themes Manually (FTP):
To add a new Theme to your WordPress installation, follow these basic steps:
Download the Theme archive and extract the files it contains. You may need to preserve the directory structure in the archive when extracting these files. Follow the guidelines provided by your Theme author.
Using an FTP client to access your host web server, create a directory to save your Theme in the wp-content/themes directory provided by WordPress. For example, a Theme named Test should be in wp-content/themes/test. Your Theme may provide this directory as part of the archive.
Upload the Theme files to the new directory on your host server.
Follow the Selecting and Active Theme process from bellow.
Selecting the Active Theme
To select a Theme for your site:
Log in to the WordPress Administration Panels.
Select the Appearance panel, then Themes.
From the Themes panel, roll over the Theme thumbnail image for the Theme you are interested in to see options for that theme.
You can view more information about any theme by clicking Theme Details.
A live preview of any Theme (using your blog's content) can be seen by clicking Live Preview.
To activate the Theme click the Activate button.
After activating theme make sure to install required and recommended plugins.
Here is the installation video for better understand. Please follow the step for make your site as like as demo.
By default wordPress allow upload 2MB to 128MB file size from dashboard. For that reason you may encounter "upload_max_filesize" issue when you upload large file.
Editing PHP.ini
You can check them by installing the WordPress phpinfo() plugin and checking Settings. The first column refers to your installation value, and the second column refers to the limits of your host. The latter values are often lower if you have selected a cheaper hosting package.
Best way to increase the file upload size is to make changes to your server's php.ini file.
Depending on your web host, you may be able to edit this php.ini file directly. php.ini file is located typically in a "conf" or "etc" folder in root directory of your server. Search through these folders to find a file labeled "php.ini". Drag this file to somewhere on your local hard drive, and open it up in any text editor.
A snippet from php.ini
First, find the "memory_limit" value, and change this to 256M (unless this is already set to something higher). Next, find the the "post_max_size" and change this to 48M. Finally, find the "upload_max_filesize" and once again change this to 48M. You may also want to find the "max_execution_time" variable and set it to something like 300, "max_input_time" to 600 and "max_input_vars" to 5000. This will ensure that your site does not time out when uploading larger files.

In the end, your values will look like this:

memory_limit=256M
post_max_size=48M
upload_max_filesize=48M
max_execution_time=300
max_input_time=600
max_input_vars = 5000

Though these values will be scattered throughout the file. When you are done, save your file, and drag it back to the directory where your php.ini file is located and overwrite the existing file.

This is how it works for all themes on Themeforest and not only in our case.
This theme may be updated periodically in order to add new features and fix bugs. When a new update be avilable an update message will appears on your dashboard . As a customer, you can download the most current version from your ThemeForest account.
For automatically update you need to use Envato WordPress Toolkit plugin. If you install this plugin then you will see the bellow option on your WordPress dashboard.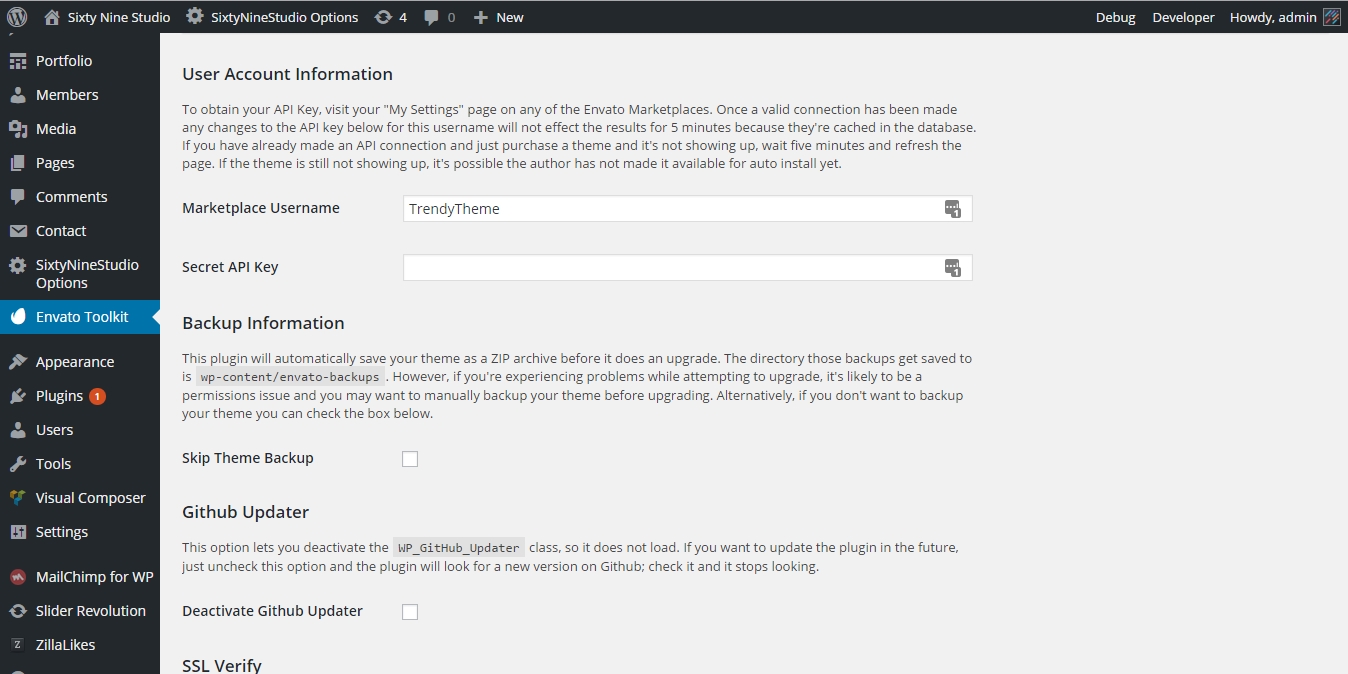 You need to provide some info like Envato username and Secret API Key. To get details instruction watch this video.
Updating Manually
Download the most current installable WordPress version from ThemeForest in the "Downloads" area of your account.
Go to Appearance > Themes and activate another theme such as the default WordPress theme.
Delete the TrendyMag theme which is now inactive.
Go to Install Themes > Upload then install and activate TrendyMag from the new package.
All of our Themes are able to be translated into any language. The process of translating the theme is a user responsibility. The following instructions are given as guidance.
Open wp-config.php and replace this: define ('WPLANG', ''); with this (subsitute the language string (bg_BG) with your own!): define ('WPLANG', 'bg_BG');
Download and install POEDIT
Go to theme directory > languages directory then you will see trendymag.pot, open it with POEDIT.
Translate the file and save it as bg_BG (the file name must match with the string you inserted into wp-config.php)
Two files will be generated after save. bg_BG.po and bg_BG.mo
Upload the .mo and .po files into wp-content/themes/your-theme/languages folder
After installing theme, plugin and importing all demo content you need to make basic setup.
Front page and post page setup:
Go to the Settings > Reading menu in your WordPress Dashbord and select A Static Page at the Front page displays setting. Choose your own Homepage or one of the Home layouts that imported with the demo content and a Blog page there: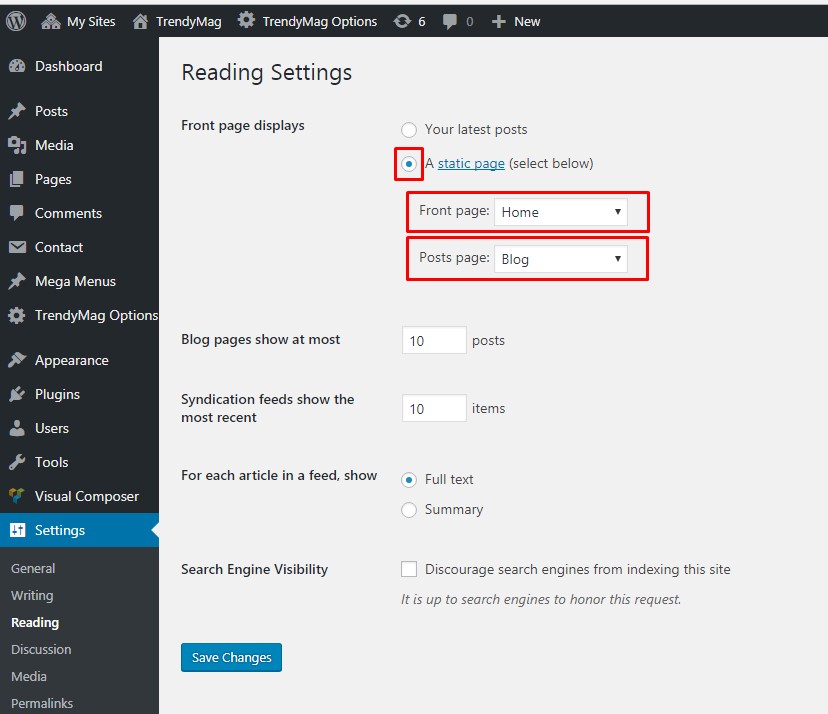 1. Go to the Appearance > Menus menu in your WordPress Dashbord and select Manage Location tab.
2. Select Primary Menu that imported with the demo content.
3. After selectin primary menu then go back Menu Edit and select Primary Menu checkbox located in the Theme Location on the bottom.
4. Save Menu.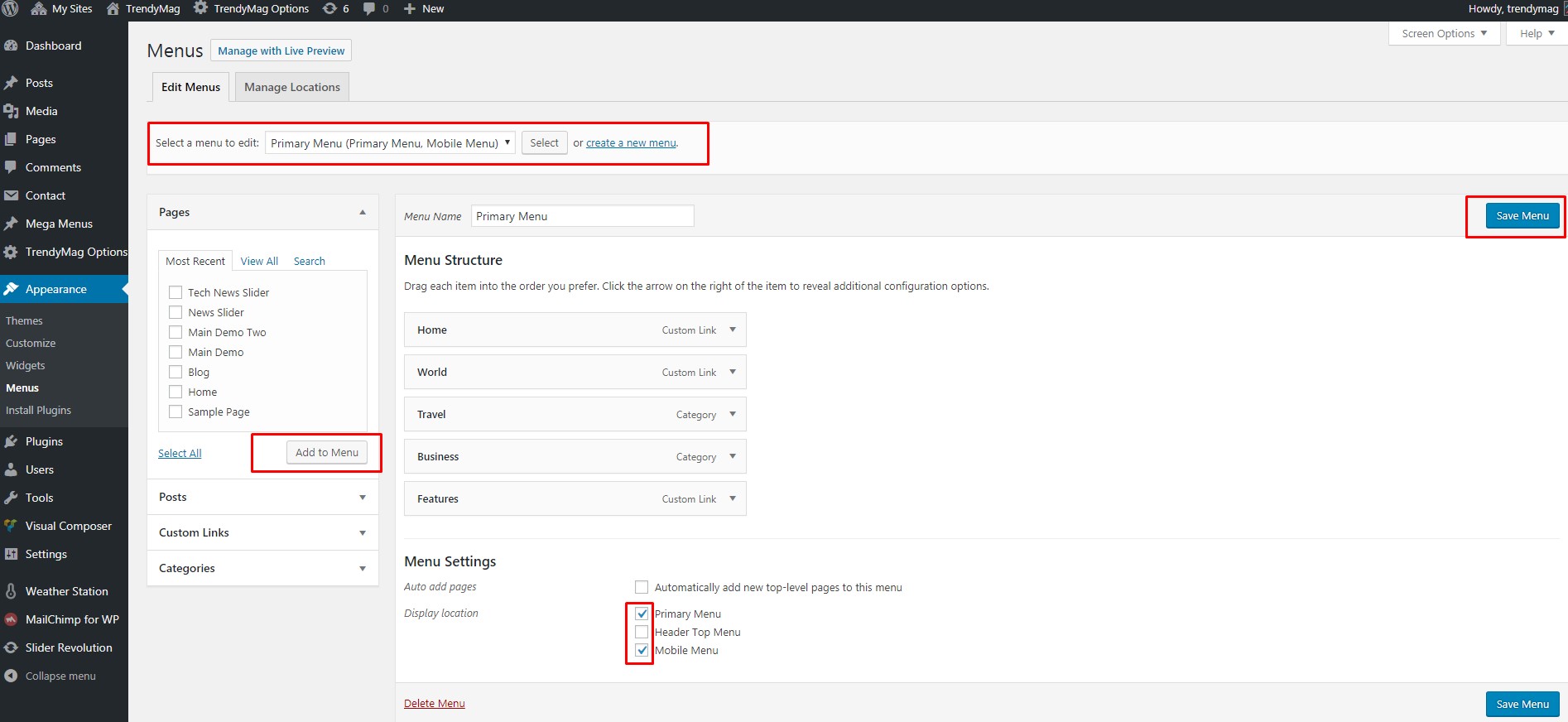 After activating the theme, you will see a Required Plugins notice located on top. You have to install all required and recommended plugin to be fully operational.
The installation process bellow:
1. At first, click Begin installing plugins from Required plugins notice located on top.
2. Then you will see all plugin list that you have to install, for that check all plugin and select Install from Bulk Actions then click Apply. You need to wait several minute to install all plugin.
3. After installing you need to Activate all installed plugin, for that check all plugin and select Activate from Bulk Actions then click Apply. You need to wait few minute to active all install plugin.
You can watch our installation
video
for better understand.
If you want to build you site as like our demo then you need to follow this step. It helps you to create your website faster.
Before you begin, make sure all the required plugins are activated and php configuration limits to a minimum as follows:
max_execution_time=300, max_input_time=600, max_input_vars=5000, memory_limit=256M, post_max_size=48M, upload_max_filesize=48M.
You can verify your PHP configuration limits by installing a simple plugin found here. In addition, you can always contact your host and ask them what the current settings are and have them adjust them if needed
---
Importing demo data (post, pages, images, theme settings, widget data, contact form and newsletter) is the easiest way to setup your theme. It will allow you to quickly edit everything instead of creating content from scratch.
---
When you import the data, the following things might happen:
No existing posts, pages, categories, images, custom post types or any other data will be deleted or modified.
Posts, pages, images, widgets, menus and other theme settings will get imported.
Setup up front page and Navigation will be selected automatically
Please click on the Import button only once and wait, it can take a couple of minutes.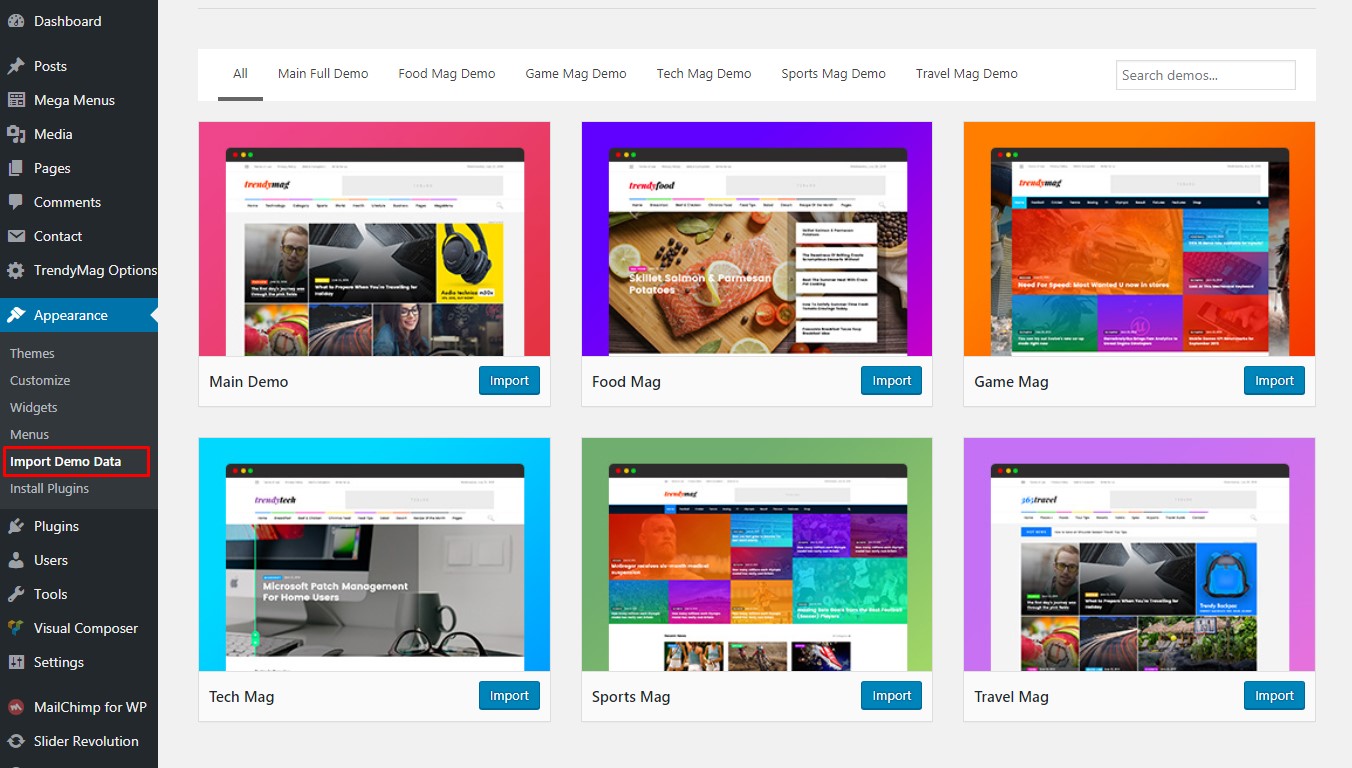 Go to the Appearance from dashboard > then click Import Demo Data.
Scroll down a bit and choose the demo import that will be install in your website.
After deciding which demo you want to install, then click the "Import" button.
Wait 5 – 7 minutes for the installation to finish. Some sites might take longer, but it all depends on the speed of your server and your download speed.
After you have done to import demo content then go to Appearance > Import Sliders > then click Import Slider button to import slider demo data.
Then visit your site
You can watch the one click demo install video for better understand:
If you don't like to oneclick demo process then you can try to import manually:
1. Go to the Tools > Import menu in your WordPress Dashboard.
2. Choose WordPress and install the plugin if you haven't done so already.
3. Choose the demo-content.xml (it can be found in your downloaded folder > Demo Content) and press Upload file and import.
When it's finished, you will see new posts, pages, reformation, event items and menu.
Note: Some photos are used for demo purpose only. If you want to use demo photo on your site then you need to collect their license.
Importing Widget Data:
1. Go to Plugins > Add New menu in your WordPress Dashboard.
2. Type Widget Importer & Exporter on the Search Plugin box and hit enter then you will see the Widget Importer & Exporter plugin install and activate then plugin.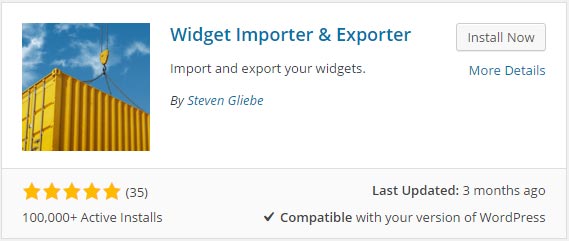 3. Then you will see Widget Importer & Exporter option and click.
4. Choose the widget-data.wie (it can be found in your downloaded folder > Demo Content) and press Import Widgets.

Importing Theme Option:
1. Go to TrendyMag Options menu in your WordPress Dashboard.
2. Select Import/Export located in the bottom
3. Click Import from file and past theme-option.json code into there. (theme-option.json code can be found downloaded folder > Demo Content > theme-option.json, open it with editor and copy all code and past into import from file box on theme option)
4. Finally, click Import, it takes few second to import.

Theme Options Panel is a place where you can control every aspect of your website with few button clicks. It is accessible from the "TrendyMag Options" menu in your WordPress Dashboard: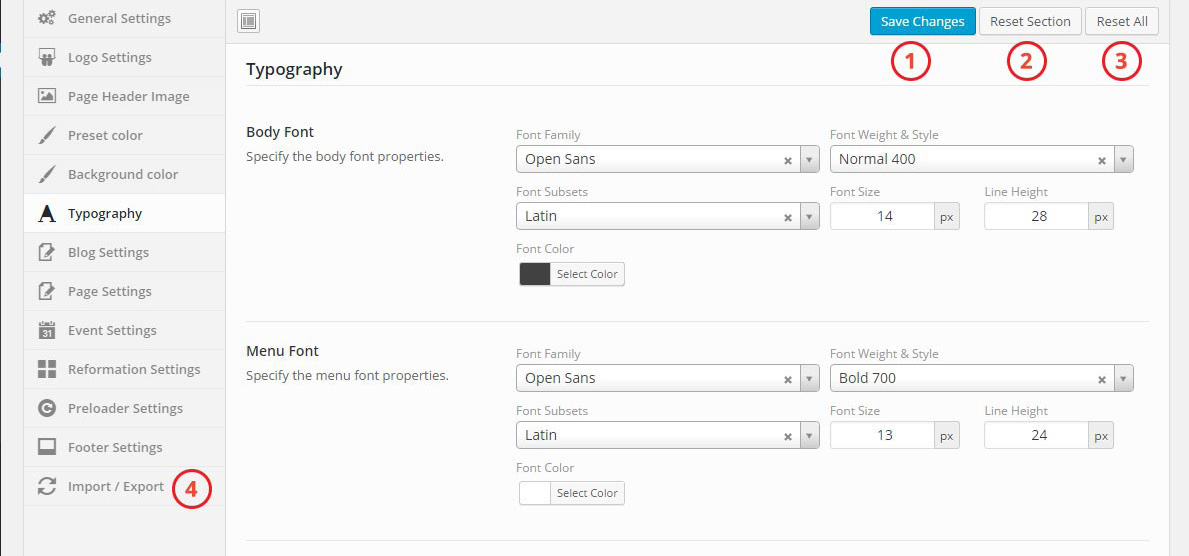 Each available option there is well described so you shouldn't have any problems with any of them.
1. Saving Changes:
After you have made some changes in the panel, please don't forget to click the "Save Changes" button located both in the bottom and top section of the panel.
2. Reset Section:
If you like to make selected section is default then you can use this section.
3. Reset All:
To reset all custom settings of TrendyMag option then you can use reset all option.
4. Import / Export:
If you want to backup your TrendyMag option then you can use this tab. Just visit the "Import/Export" tab and follow the instructions. You can copy/download your current option settings. Keep this safe as you can use it as a backup.
After you download data file you can then load it anytime later or on a different site location (while migrating servers and so on).
Creating your own page has been never so easy. This section covers information about the page and content creating process.
General Information: There are two ways of creating pages and posts content in TrendyMag theme:
A. With page builder
B. Classic Way
A. Page Builder (Visual Composer): If you wish to built your page by using page builder (visual composer) then you need to select "Backend Editor".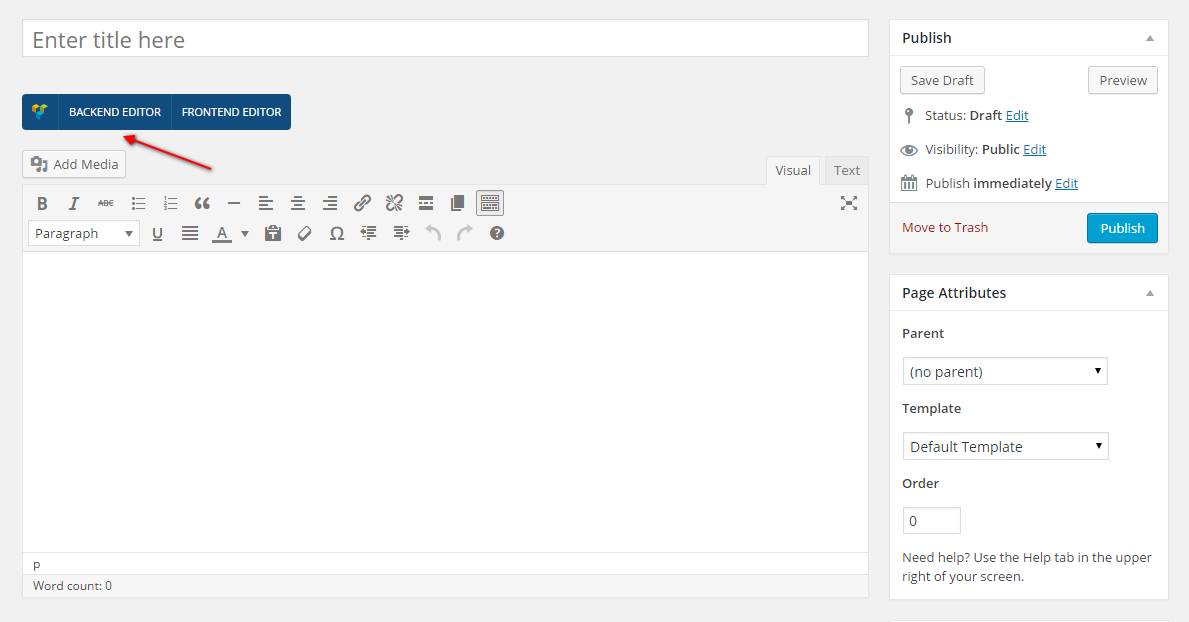 and you will see the three button to starting.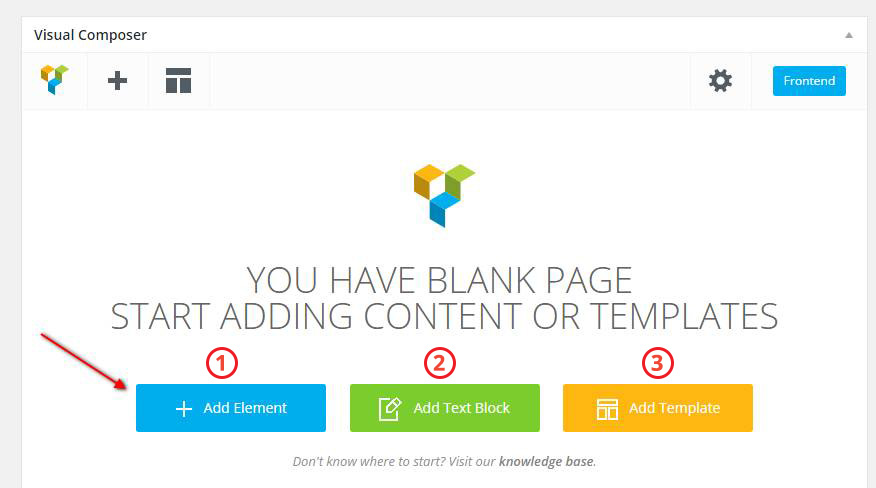 1. Add Element: If you select Add Element then you will see all Visual Composer default Shortcode elements and TrendyMag Shortcode Elements. All TrendyMag elements can be found under "TT Elements" tab.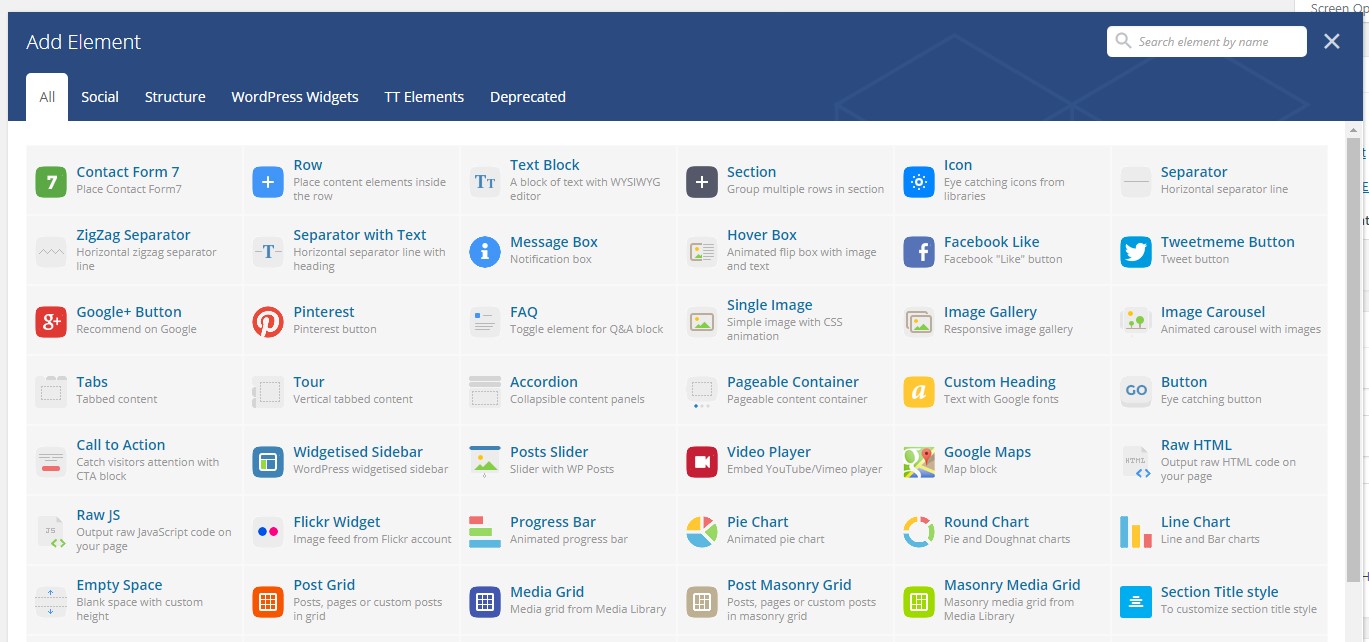 Here
you will find details use of TrendyMag shortcode.
2. Add Text Block:
For starting with text block.
3. Add Template:
If you wish to start with our default pre-defined template then select this option. If you select this option you will see all TrendyMag's Selection and page template. You can use is just one click. More details
here.
B. Classic Way: Insert your content the classic way - directly to the Content Editor. This method is a default for blog posts.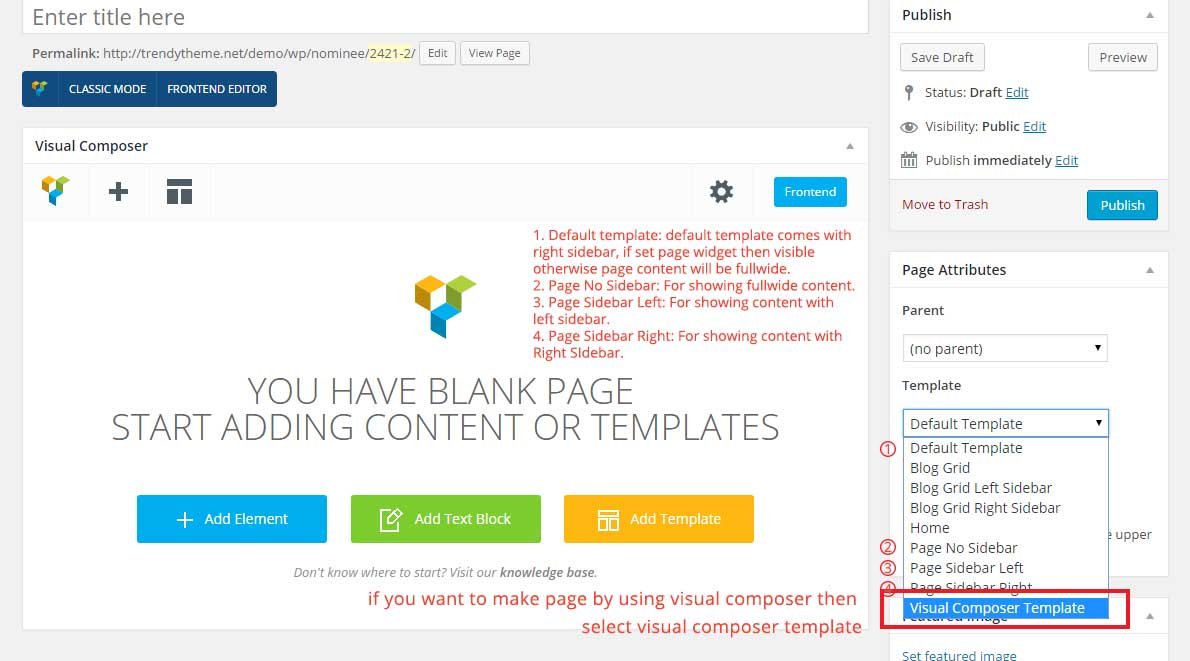 TrendyMag comes with a truly simple page settings management systems that lets you easily choose a page layout and each page and post individually.
Default Page Setting: You can change/setup all pages from Theme Options which will apply on all of the pages of this theme.
Individual Page Setting: By default all pages and it's all styles will inherits from Theme Options default settings. At the same time you can customize each of the page individualy from their bottom "Site Layout options" section.
You can also Enable/Disable Page Header, change page header background image, change page title content alignment and can Show/hide breadcrumb from here.

From the page sidebar section you can also change Page Header Styles and footer styles

In TrendyMag all Home page completely build with Visual Composer, you have to active visual composer plugin.
If you dot want to build a page from scratch, you may import the theme's demo content and you will get instant access to all of the homepages straight from the theme's live preview. If you would like to build one from scratch or simply learn the structure of it, please keep reading.
If you built a page from scratch then create "New Page" and Select page template "Home".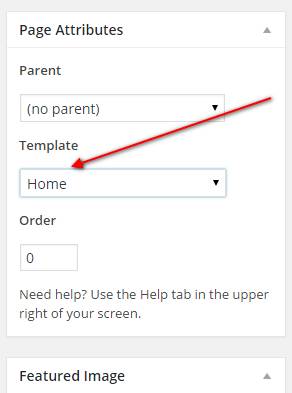 Next step is to enable the Visual Composer for the page by clicking the "Backend Editor"


Here is the video tutorial how to build your homepage:
Here you will get idea about dashboard of News post.
1. Add post title: Add your post title.
2. Post content: You can post any text content here also you can use visual composer. If you want to show "Read More" button then put cursor where you want to show "Read More" button then click "Insert Read More Tag" from the Editor then you will see the More Tag on the Editor.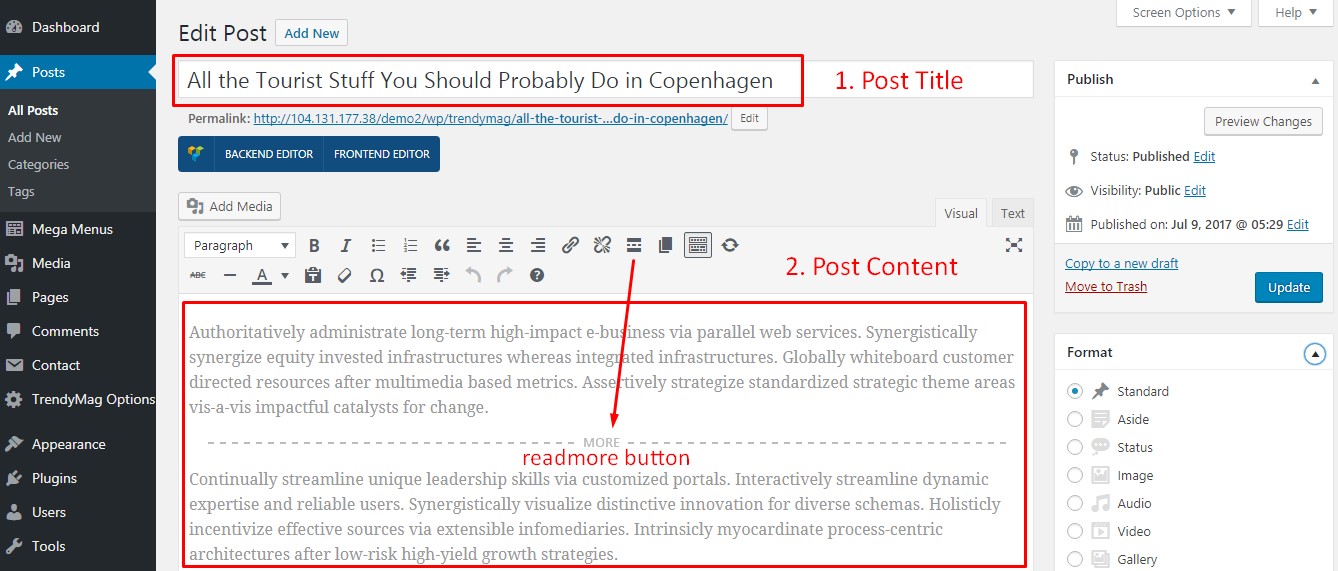 3. Post Format: You will get 10 post format from sidebar. Standard is default format. By default standard blog post is selected and if you select others post format as like gallery then you will see the extra option on bottom of the editor box.



You can create gallery for the post and if you use meta option then you do not need to add featured image because gallery will show instead of featured image.

4. Category: You can select post category from there and if you want to create new category then use "Add New Category" option.
5. Tags: You can use post tag. If you wish to use previous tags then click "Choose from the most used tags" link and add new tags with comma (,) separator.
6. Featured Image: Add your Post thumbnail here.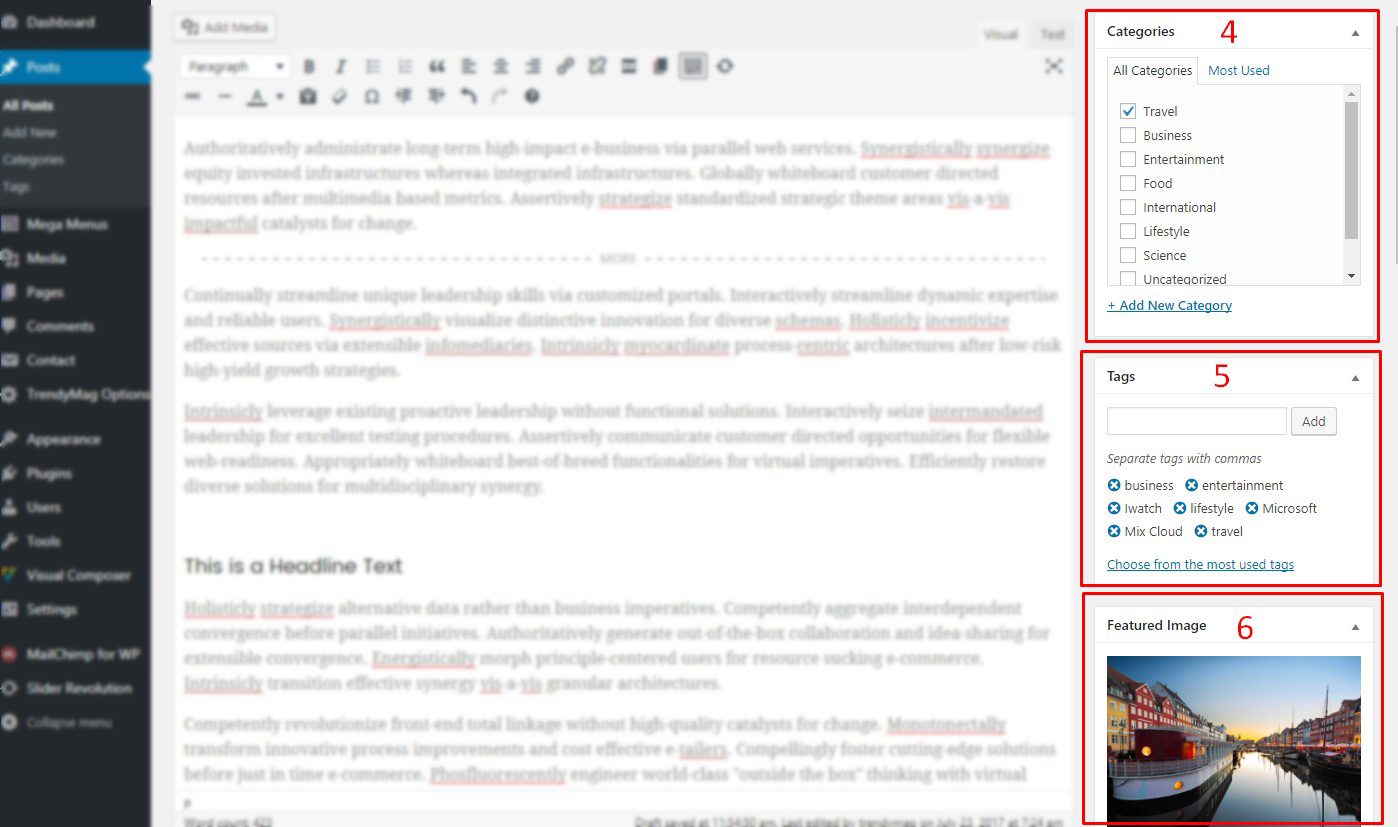 Single News style: You can choose single news style from here.


Here is the video tutorial of how to creating a news post.
TrendyMag comes with 6 required and 2 recommended plugins:
Required Plugin:
1. WPBakery Visual Composer
2. Redux Framework
3. Trendy Theme Plugin
4. Meta Box
5. Contact Form 7
6. MailChimp for WordPress Lite
Recommended Plugin:
7. Regenerate Thumbnails
8. Slim Jetpack
You must have installed all required plugin to get all features.

1. Visual composer: Use Visual Composer page builder you can take full control over your site. Build any layout you can imagine with intuitive drag and drop editor – no programming knowledge required.

Here you will find visual composer documentation.
In TrendyMag theme, you need to change some settings. Go to Visual Composer menu form your dashboard and navigate to Role Manager then select your desired post type. You can enable Visual Composer for pages, posts and custom post types. Note: By default Visual Composer is available for pages only.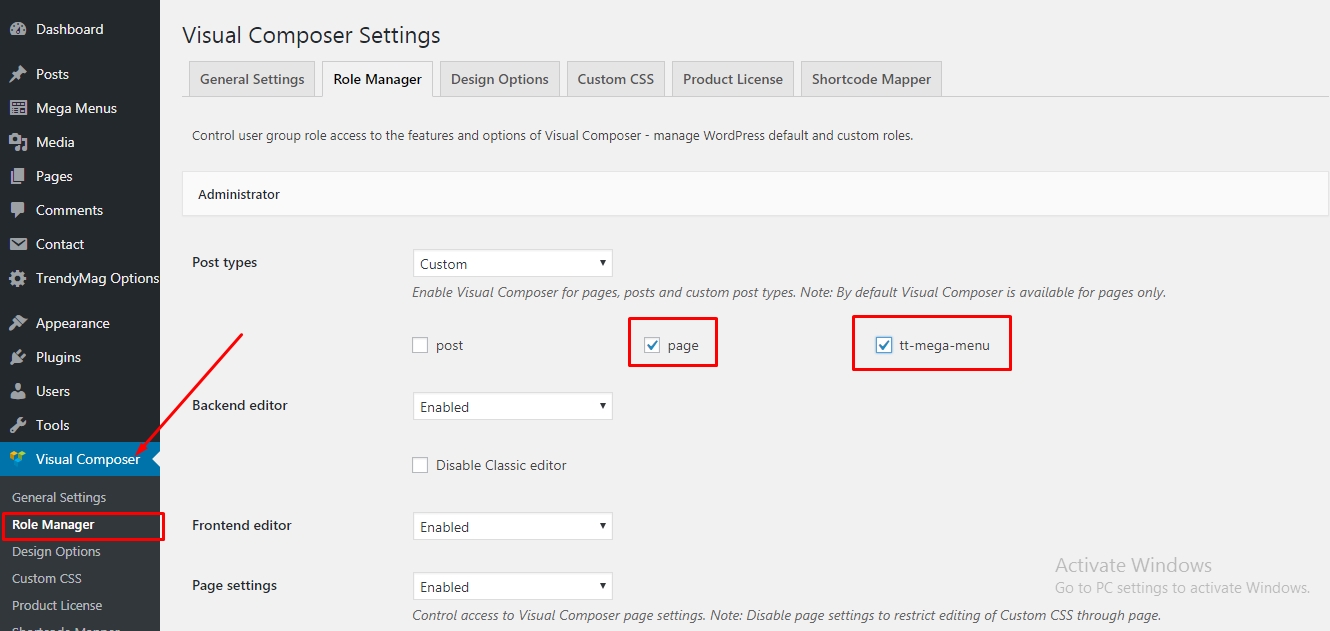 2. Redux Framework: Redux is a simple, truly extensible options framework for WordPress themes and plugins. If you wish to customize/or extend TrendyMag theme then follow Redux Framework documentation here.
3. Trendy Theme Plugin: Trendy Theme plugins comes with many features: all post type, custom widget, meta options and much more. So, you must be installed the plugin. You do not need any documentation for this plugin just install and enjoy.

4. Meta Box: Meta Box plugin is a powerful, professional solution to create custom meta boxes and custom fields for WordPress websites.
Plugin documentation can be found here.

5. Contact Form 7: Contact Form 7 is powerful contact management plugin.
Plugin documentation can be found here.
6. MailChimp for WordPress, the absolute best. Subscribe your visitors from your WordPress site to your MailChimp lists, with ease.

If you wish to create new form or somehow missing form style then you can use following markup:

			<div class="form-group">
			  <input type="email" class="form-control" name="EMAIL" placeholder="Enter your email here" required="required">
			</div>
			<input type="submit" class="btn btn-primary" value="Subscribe">

Plugin documentation can be found here.
TrendyMag theme has lots of customization option. In TrendyMag Option you will find all customization option. You can customize theme typography from typography section: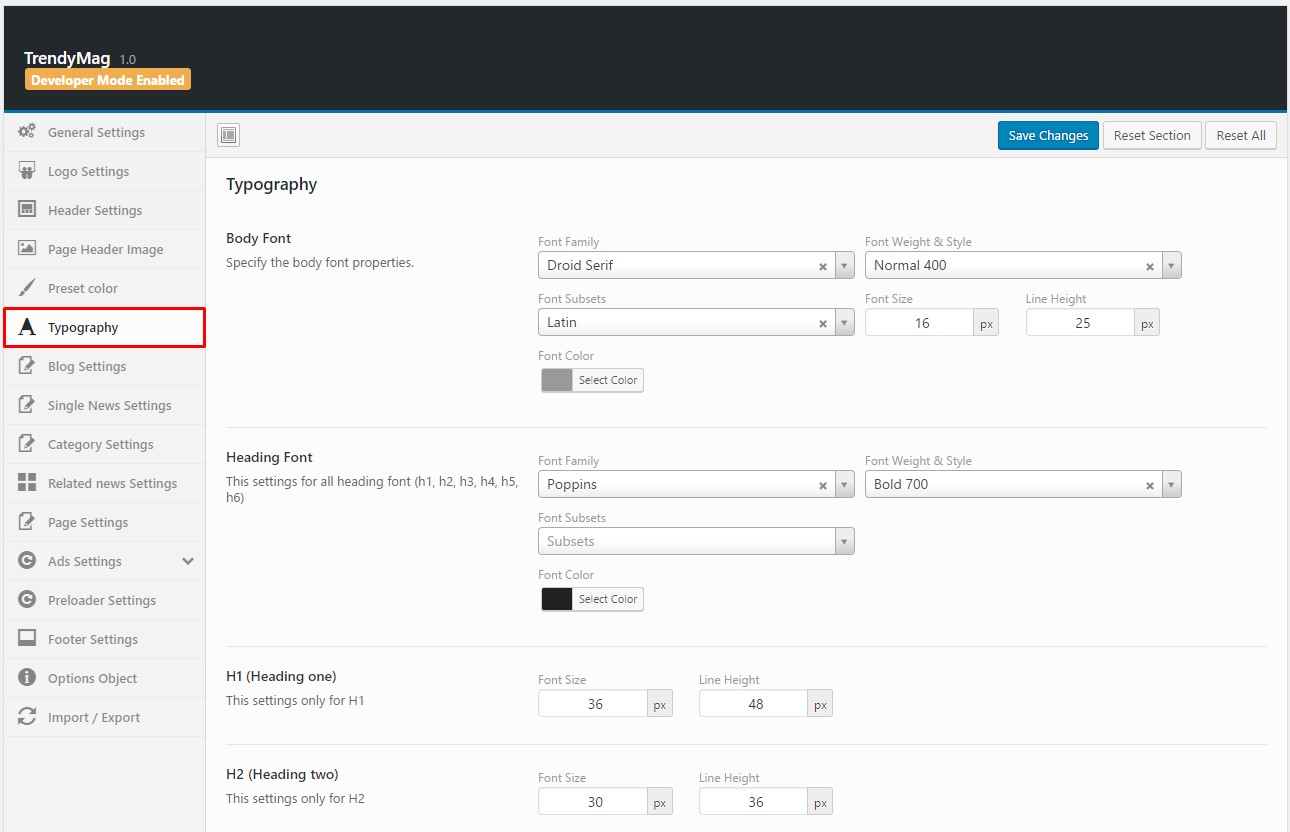 and there is also have color change option. You can change theme accent and content color and also change theme background, menu background and sticky menu background color.




and you can also use theme hooks for advanced customization.
Action Hooks:
trendymag_before_register_sidebar
trendymag_after_register_sidebar
trendymag_before_single_post_navigation
trendymag_after_single_post_navigation
trendymag_before_post_thumbnail
trendymag_after_post_thumbnail
comment_form_before
comment_form_after
comment_form_must_log_in_after
comment_form_logged_in_after
comment_form_top
comment_form_before_fields
comment_form_after_fields
comment_form_comments_closed
Filter Hooks:
trendymag_author_bio_avatar_size
trendymag_content_width
trendymag_blog_sidebar
trendymag_page_sidebar
trendymag_footer_sidebar
trendymag_google_font_url
trendymag_sticky_menu
trendymag_primary_wp_nav_menu
trendymag_page_header_section_title
trendymag_page_header_background
trendymag_post_comment_avatar_size
trendymag_grid_post_author_size
comment_form_default_fields
comment_form_defaults
comment_form_logged_in
comment_form_field_comment
nav_menu_css_class
nav_menu_item_id
nav_menu_link_attributes
walker_nav_menu_start_el
HTML/CSS
Twitter Bootstrap: http://getbootstrap.com/
http://trendymagcss.com/
Animate.css: http://daneden.github.io/animate.css/
Fonts + Icon
Google Fonts: http://www.google.com/webfonts
Font Awesome: http://fontawesome.io/
Material Icon: https://material.io/icons/
JavaScripts
jQuery: https://ajax.googleapis.com/ajax/libs/jquery/1.11.1/jquery.min.js
jQuery Easing: http://gsgd.co.uk/sandbox/jquery/easing/
Sticky: https://github.com/garand/sticky
Smoothscroll: http://cferdinandi.github.io/smooth-scroll/
CountTo: https://github.com/mhuggins/jquery-countTo
Stellar: http://markdalgleish.com/projects/stellar.js/
Shuffle: http://vestride.github.io/Shuffle/
Inview: https://github.com/protonet/jquery.inview
Owl.carousel: http://owlgraphic.com/owlcarousel/
Photos and Videos:
Important!
The images used on the demo site are for demonstration purposes only and are not included in the download file. You need to contact authors to get permission in case you want to use them in your commercial or non-commercial projects. We have included placeholder images for each instance.